your one-stop local shop for everything babies and kids
What to expect
You will find just about everything for boys and girls and all with huge savings as families recycle gently used items that their kids have outgrown. 
Our Stallholders are Mums and Dads who have chosen to pass on pre loved items including clothing, shoes, toys, puzzles, books, prams, bikes, cots, highchairs as well as other nursery and maternity items instead of adding them to landfill giving shoppers the opportunity to snap up many of the popular baby and kids brands for a fraction of the retail price in sizes ranging from newborn to tween.
Plus at every event you'll have the opportunity to browse a selection of small business stalls showcasing their unique new/handmade goods and services often with exclusive Market Day specials!
No two markets are the same with new sellers at each market, you will discover something different at every event!
Our Top 3 Reasons for Buying Pre Loved for Your Kids!
1. Affordability – preloved items are generally sold at a fraction of the cost of new so it's a great way to save money.
2. Sustainability – recycling kids clothing and toys will reduce the amount of items that end up in landfill.
3. Quality – preloved clothing has generally been worn and washed multiple times and proven their durability and quality.
Tips for shoppers
Shopping starts at 9am, come early to find the best bargains! 

Have correct change ready for your $4 entry fee or opt to pay via Square Pay 

Most Stalls are Cash Only so come prepared with plenty of cash and bring small notes and coins if possible! 

Do some research prior especially if you are planning to buy large nursery items 

Prepare a shopping list so you don't forget anything 

Take note of stall numbers when purchasing large items or electronic toys in case you need to get in touch with a seller after the market
What items will be on sale at the market?
At MKM, mums and dads will be selling their gently used pre-loved items as well as small businesses showcasing their unique brands.
Each market aims to provide shoppers with a wide variety of quality preloved baby and kids items, as well as unique collections of new/handmade goods and local services to browse. 
You will discover many of the popular baby and kids brands for a fraction of the retail price in sizes ranging from newborn to tween. Product and size offerings vary per market so come early for the widest selection.
How many stalls will be on display?
Our events host typically 60 – 70 stallholders and include preloved and business stalls.
What to bring
BYO Shopping bags for all of your bargains!

Plenty of cash as not all Stalls will accept card

Bring your kids along – we always have fun things to keep your little ones entertained!
Entry fee
At MKM we charge a nominal fee of $4 per adult, kids are welcome for free. The entry fee assists with the running costs of the event. Without an entry fee the market would not be able to operate.
ATM
There are no ATM's at our venues so please come prepared with plenty of cash.
Most Pre Loved Stall are cash only, however, some stalls including business stalls may offer contactless payment options
Large Items - How to buy
Each market has a designated area where stallholders display their large nursery items, furniture and play equipment for sale all in one place! 
It is designed to help shoppers find and compare specific items without having to go between stalls. Our shoppers generally visit the Large Items Area as soon as they arrive at the Market to check out what's for sale on that day as remember you will find different bargains at every market! 
What Items Will I Find in the Large Item Area? 
Cots, portacots, prams, highchairs, car seats, rockers, bikes, outdoor toys, safety gates, change tables, bassinets, baby baths and more! 
How Do I Buy an Item on Display? 
All items on display will have a Large Items Label attached with the Item Description, Price and Stall Number. 
All shoppers must follow these 4 simple instructions when buying from the Large Items Area: 
STEP 1 > Locate the stall number on the label attached to the item you want to buy.
STEP 2 > Leave the item on display and go to the stall, the market staff will assist you with finding the stall by providing you with a map of the stall layout.
STEP 3 > Negotiate a price and pay for the item, the stallholder will provide you with an official market receipt. 
STEP 4 > Take the receipt back to the large items area staff to collect your item or you may place a sold label on the item and continue shopping. 
Please note that an item cannot be removed from the Large Items Area without showing the Market staff the original stamped receipt.
Parking Tips
MKM has plenty of free parking at all market locations.
Please note – Newcastle has additional/overflow parking & is available for $2 a the farmers market
What if it rains? Will the market go ahead as planned?
All My Kids Market NSW are held indoors so the event will almost always go ahead regardless of the weather with the exception of extreme weather events such as flooding.
If I find an item that is not as described, what should I do?
We will send you the contact details of the stall-holder for you to contact directly. If you know the stall number then please Contact Us with stall number, location and date of market and a description of the part/faulty product. My Kids Market NSW is not responsible for faulty items, this is between the buyer and the seller. If you cannot remember the stall holder number then it will be very difficult for us to assist you further.
Typical baby & kids goods found at My Kids Market: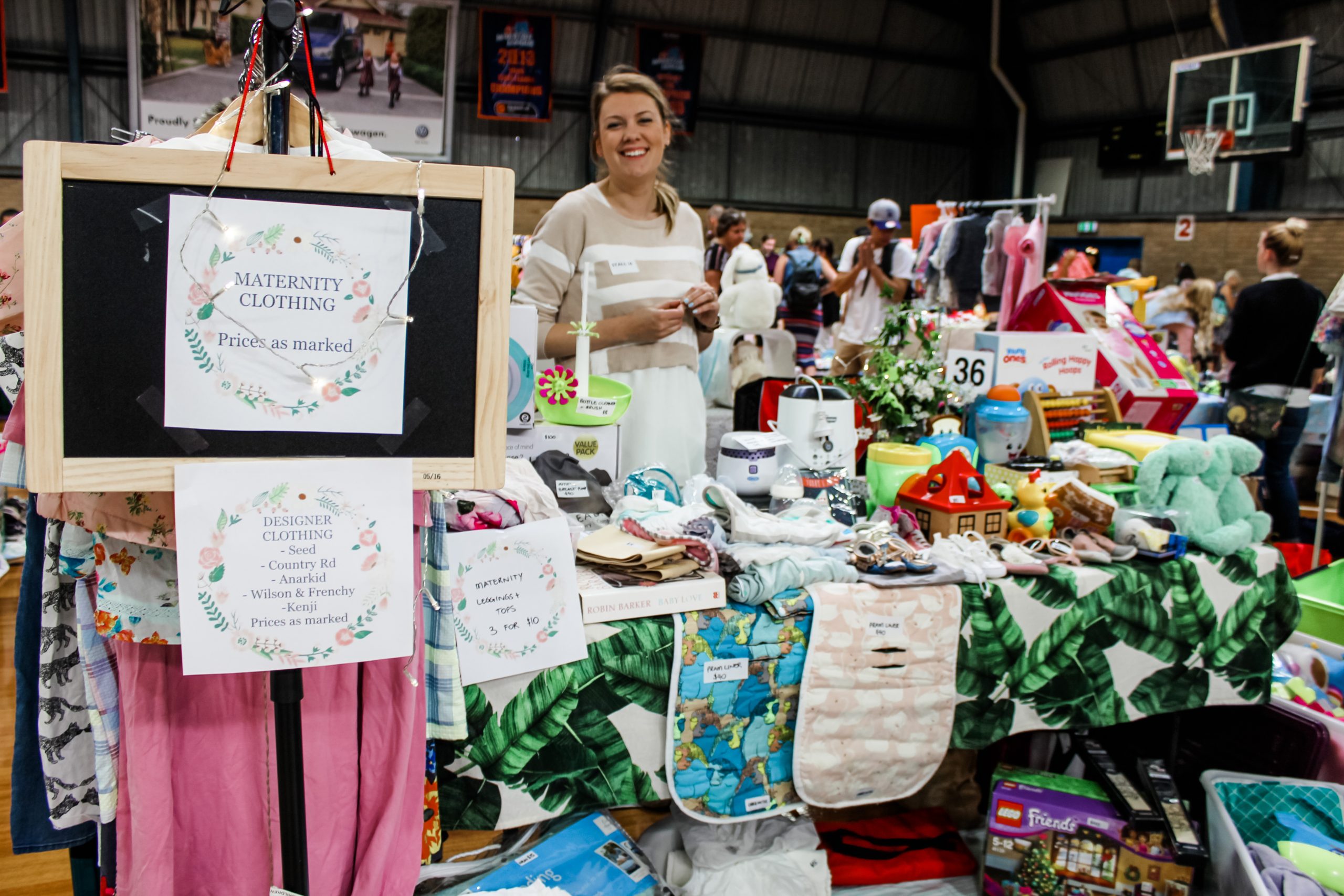 Maternity Clothes & Accessories
Swings, Rockers & Bouncers
Sign Up To Our Newsletter
For all the latest news & events